January 2014
The complete recording of The Beauty Stone, made by Chandos with sponsorship from this Society, was issued on 4 November 2013. Toby Spence, David Stout, Stephen Gadd, Richard Suart, Alan Opie, Elin Manahan Thomas, Catherine Wyn-Rogers, Madeleine Shaw, Rebecca Evans, Olivia Gomez, Sarah Maxted, Llio Evans; BBC National Chorus and Orchestra of Wales, conducted by Rory Macdonald. 2-CD set: CHAN 10794(2)
New from Chandos: Overtures of the British Isles: CHAN 10797. The BBC National Orchestra of Wales, conducted by Rumon Gamba, presents Sullivan's Macbeth together with works by Austin, Balfour Gardiner, Bantock, Coleridge-Taylor, Cowen, Mackenzie and Stanford.
Albany Records presents a new recording of H.M.S. Pinafore: Ohio Light Opera, recorded live at the 2013 light opera festival in Wooster, Ohio. TROY1459-60
Coming soon: Oxford University Press announce a new vocal score of The Yeomen of the Guard edited by Colin Jagger, and correcting many errors in previous editions. Includes unpublished songs and alternative endings. Full scores and parts will be available for hire. Publication estimated at September 2014: ISBN 978-0-19-338920-5, price £14-95. www.ukcatalogue.oup.com/product/9780193389205.do
See below for details of forthcoming Sullivan concerts and performances in the UK and beyond.
Grim's Gyke Hotel, W.S. Gilbert's former home on Harrow Weald, is now the Best Western Plus Grim's Dyke hotel and has expanded its programme of G&S performances for 2014.
Opera dinners: Three-course dinner and complete costumed opera performance. £62-50 per head; or with B&B (based on two sharing) £92-50 per head. Black tie/smart suit. 7pm for 7.30: Trial by Jury 6 Jul, 23 Nov; H.M.S. Pinafore 23 Mar; The Pirates of Penzance 6 Apr, 15 Jun, 7 Dec; Iolanthe 11 May, 14 Dec; The Mikado 10 Mar, 9 Nov; The Yeomen of the Guard 27 Apr; The Gondoliers 26 Oct. Opera suppers: Two-course meal and opera performance. £57-50 per head; or with B&B £87-50 (based on two sharing). Dress code smart. 7pm for 7.30: H.M.S. Pinafore 10 Aug; Pirates 31 Aug, 5 Oct; Patience 22 Jun; Iolanthe 7 Sep; Mikado 27 Jul; Yeomen 21 Sep. Matinee cream teas: Full cream tea and opera selections: 2.30 for 3pm: 15/22 Jun; 6/27 Jul; 10/31 Aug; 7/21 Sep. "Tea with a Tune": Full cream tea and G&S favourites played by Hilary Morgan (piano): 20 Feb, 13 Mar, 10 Apr, 8 May, 19 Jun, 24 Jul, 14 Aug, 4 Sep, 9 Oct, 13 Nov. 020-8385-3100; reservations@grimsdyke.com www.grimsdyke.com
Kings College London G&S Society presents H.M.S. Pinafore at the Greenwood Theatre (London Bridge) on 5, 6 and 7 March at 7pm. Box office opens 6.30: Tickets £10 (£7 concs)
The New York Gilbert and Sullivan Players present The Pirates of Penzance: 8 Mar Boettcher Concert Hall, Denver CO; 8/9 Mar Southern Theatre, Columbus OH; 13 Apr Frank Guaracini Jr. Fine & PAC - Cumberland Community College, Vineland, NJ. H.M.S. Pinafore: 14 Mar Weidner Center for the Performing Arts, Green Bay WI; 15 Mar Paramount Theatre, St. Cloud MN; 18 Mar Myles Reif Performing Arts Center, Grand Rapids, MN; 19 Mar Rosza Center for Performing Arts, Houghton MI; 20 Mar Capitol Theater, Madison WI; 21 Mar Fine and Performing Arts Center, Palos Hills MO; 22 Mar Touhill Performing Arts Center, University of Missouri, St. Louis MO; 23 Mar Sangamon Auditorium, University of Illinois, Springfield IL; 25 Mar Beach/Schmidt Performing Arts Center, Fort Hays State University, Hays, KS; 27 Mar Glema Mahr Center for the Arts, Madisonville, KY; 28 Mar Norton Center for the Arts, Danville, KY; 29 Mar Niswonger Performing Arts Center of NW Ohio, Van Wert OH. www.nygasp.org
Much Loved Productions presents A Feast of Gilbert and Sullivan: Garrick Theatre, Lichfield 23 Mar 7.30 01543-412121; Pomegranate Theatre, Chesterfield 26 Apr 7.30 01246-345222; Grand Theatre Lancaster 12 Jun 7.30 01524-64695; Town Hall, Loughborough 13 Jun 7.30 01509-231914; Theatre Royal, Windsor 15 Jun 7.30 01753-645544; Playhouse, Weston-Super-Mare 13 Jul 7.30 01934-645544; Gawsworth Hall 16 Jul 7.30; Opera House, Buxton (with orchestra) 17 Aug 7.30 0845-127-2190 www.mlpltd.com
Regan De Wynter Productions presents H.M.S. Pinafore: the acclaimed all-male version directed by Sasha Regan at Devonshire Park Theatre, Eastbourne 3 - 8 Mar 7.45, 5/8 Mar 2.30 01323-412000 boxoffice@eastbourne.gov.uk www.eastbournetheatres.co.uk; Buxton Opera House 13/14 Mar 7.30 0845-127-2190 www.buxtonoperahouse.org.uk; Nottingham Playhouse 24/5 Mar 0115-947-4361 www.nottinghamplayhouse.co.uk; Ashcroft Theatre, Croydon 26/7/8 Mar 020-8688-9291 www.fairfield.co.uk; Northcott Theatre, Exeter 1-5 Apr 7.30 and 5 Apr 2.30 01392-493493 www.exeternorthcott.co.uk; Warwick Arts Centre 22 - 26 Apr 7.30 and 26 Apr 2.30 024-7692-4524 www.warwickartscentre.co.uk; Yvonne Arnaud Theatre, Guildford week commencing 28 April 01483-440000 www.yvonne-arnaud.co.uk; Theatre Royal Winchester week commencing 5 May 01962-840440 www.theatreroaylwinchester.co.uk. More dates are likely to be added. www.hmspinaforetour.com
Opera della Luna presents The Mikado: ; 28-29 Mar 7.30 Oxford Playhouse 01865-305305; 31 Mar 7.30 Civic theatre, Chelmsford 01245-606505. www.operadellaluna.org.
The BBC presents Friday Night is Music Night on BBC Radio 2, 7 March at 7.30pm. The programme is a G&S evening with Rebecca Bottone, Simon Butteriss, Sylvia Clarke, Bruce Graham, Heather Shipp and Oliver White with the BBC Concert Orchestra and chorus conducted by Richard Balcombe. As well as mainstream favourites, the programme will include David Russell Hulme's reconstructions of 'In days gone by' (Lady Sangazure's song from The Sorcerer) and 'Though men of rank' (The Duke's song from Patience); and 'When jealous torments' (The Yeomen of the Guard).
Opera Anywhere presents The Pirates of Penzance: 15 Mar 7.30 Memorial Hall, Shrivenham, Wilts; 9 May 7.30 Cotswold Playhouse, Stroud; 21 Jun 7.30 Village Hall Cumnor, Oxford; 28 Jun 6pm the Amphitheatre at Waterperry Gardens OX33 1LA; 10/11 Oct 7.30 Kenton Theatre, Henley-on-Thames (01491-575698) www.operaanywhere.com
Theater Münster presents Die Piraten von Penzance: Großes Haus, Theater Münster, Neubrückenstraße 63, 48143 Münster (Germany). 16 Mar 11.30; 29 Mar 7.30; 3 Apr 7.30; 6 Apr 3pm; 8/9/25 Apr 7.30, 17/31 May 7.30, 27 Jun 7.30, 29 Jun 7pm. www.theater-muenster.com
The RTE Concert Orchestra presents The Very Best of Gilbert & Sullivan: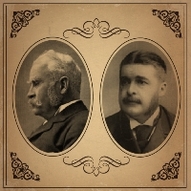 Tuesday 15 April, 8pm National Concert Hall, Dublin: Simon Butteriss (baritone), Mary Nelson (soprano), Gaynor Keeble (contralto), Stephen Brown (tenor), Bruce Graham (baritone), conducyted by Timothy Henty. Booking 01-417-0000 or at www.rte.ie
The Edward German Festival takes place in Whitchurch from 28 April - 2 May and includes a mixed concert by the National Festival Orchestra, conducted by David Russell Hulme, in St. Alkmund's church 1 May at 7.30. Vocal and orchestral music by German shares the bill with Finck, Mackenzie, Elgar, Coates, Haydn Wood and Sullivan: The Merchant of Venice. Tickets £10 available from 6 Jan : 01948-663220. 2 May 7.30, same venue: The PIrates of Penzance. Soloists, chorus and orchestra conducted by David Stokes. Many other events throughout the week: www.edwardgermanfestival.org.uk
Opera della Luna presents The Gondoliers: 9-11 May 7.30 and 10 May 2.30 New Wolsey Theatre, Ipswich 01473-295900; 20-24 May 7.30 and 22/24 May 2.30 The Lowry, Salford 0843-208-6000. www.operadellaluna.org
The City of London Phonograph and Gramophone Society Northern Group presents The Other Arthur Sullivan, a talk by our member Peter Miller, at Samlesbury War Memorial Hall, Cuerdale Lane, Samlesbury, Preston PR5 0UY on 18 May at 1.30. The talk will be illustrated with a range of modern and vintage recordings. Admission £3 includes tea/coffee and biscuits.
The Gilbert and Sullivan Society is holding a special convention to celebrate its ninetieth anniversary. The event will take place at Grim's Dyke hotel, Harrow Weald (former home of W.S. Gilbert) from 23 - 25 May 2014. Programme includes live music from Simon Butteriss; Barry Clark, Janet cowley and Bruce Graham; Charles Court Opera; Katie Leaver. Talks by Ian Bradley, John Cannon, Vincent Daniels and Jackie Mitchell, Andrew Goodman, Valerie Masterson, Cynthia Morey, Christine Parfitt, Stephen Turnbull. www.gilbertandsullivansociety.org.uk
Matlock Gilbert and Sullivan Society presents Haddon Hall on 12-14 June 2014 at 7.30 in Medway Community Centre, Bakewell. www.matlockgilbertandsullivan.org.uk
Ohio Light Opera presents The Pirates of Penzance 1/10/24/29 Jul 2pm, 12/18 Jul 7.30, 5/7 Aug 2pm. Freedlander Theatre, 329 E. University St. Wooster, Ohio. www.ohiolightopera.org
Opera Anywhere presents The Mikado: 20 Jun 7.30 St. Leonard's church, Eynsham, Oxfordshire; 27 Jun 6pm the Amphitheatre at Waterperry Gardens OX33 1LA. www.operaanywhere.com
The Gilbert and Sullivan Opera Company announces its first UK tour, presenting The Pirates of Penzance, Iolanthe and The Mikado as follows: 10 - 14 Jun Floral Pavilion, New Brighton 0151-666-0000; 18-21 Jun Orchard Theatre, Dartford 01322-220000; 24 - 28 Jun Grand Theatre, Wolverhampton 01902-429212; 1 - 5 Jul Civic Theatre, Darlington 01325-486555; 8 - 12 Jul Stockport Plaza; 7 - 10 Aug Malvern Theatre, and . . .
Performances in the Royal Hall, Harrogate as part of twenty-first international Gilbert and Sullivan Festival, are as follows:
The Mikado: 2 Aug (m + e); 22 Aug (e); 23 Aug (m + e); H.M.S. Pinafore 3 Aug (m + e); 17 Aug (m + e); 25 Aug (m + e); Iolanthe: 15 Aug (e); 16 Aug (m + e); 26 Aug (m + e); The Pirates of Penzance: 24 Aug (m + e).
Also at the G&S Festival: the New York Gilbert and Sullivan Players present The Pirates of Penzance 8 Aug (e), 9 Aug (m + e); and The Yeomen of the Guard 10 Aug (m + e).
An orchestral concert in St. Peter's church, Harrogate on 6 August will include the Symphony in E ("Irish"), the 'Cello Concerto and the overtures In Memoriam and Di Ballo. A concert in Ripon Cathedral with the Oxbridge Operatic Society on 4 August will include On Shore and Sea, the Festival Te Deum and the Boer War Te Deum. On 5 and 6 August there will be a full daytime programme of recitals, talks and workshops by Jana Polyanovakaja, Ian Bradley, William Parry, Stephen Turnbull, Martin Yates, Robin Wilson, David Cookson and others. A special three-day entertainment and accommodation package has been prepared by the Festival organisers including all the concerts, talks etc. and a £25 discount is offered to the members of this Society. For full details see www.gsfestivals.org
In addition to their Buxton performances, the New York Gilbert and Sullivan Players present The Yeomen of the Guard 5 Aug 7.30 and The Pirates of Penzance 6 Aug 2.30 and 7.30 at Malvern Theatre 01684-892277 www.malvern-theatres.co.uk
The Stephen Joseph Theatre Company presents Cox and Box - Mrs. Bouncer's Legacy at the Stephen Joseph Theatre, Scarborough: 17 Jul, 7/21/28 Aug 1.45; 12 Jul 2.45; 10 Aug 3pm; 17/24 Jul, 14 Aug 7.15; 3/4/5/7/8/9/11/12/15/16/21/25/28/29 Jul, 6/12/15/18/19/22/27/29/39 Aug 7.45;
Arthur Sullivan's one-act comic opera is reinvented with a brand new second act.
Part One Cox and Box (or, The Long-Lost Brothers)
by F.C. Burnand and Arthur Sullivan

Part Two Boks and Cocks (or, The Long-Lost Uncle)
By Chris Monks and Richard Atkinson
1866. Cox is an apprentice hatter who works by day, and Box, a printer who works by night. Under the swift broom of landlady Mrs Bouncer, the two unknowingly share the same room…and that's not all they have in common. Tempers flare and it's not long before the guns come out.
2016. The recently elected UPIK party has repatriated all migrant workers and Polish twin sisters Urszula and Krystyna are secretly sharing a room in a rundown B&B where they narrowly avoid detection. A play about deception, international relations and hidden chickens.

Illyria announces a summer UK tour of The Pirates of Penzance. More details and dates in due course. www.illyria.uk.com
Updated 6 March 2014